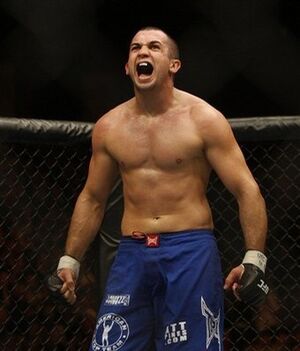 Wilson Gouveia
is a current MFC light-heavyweight fighter known for his long stint in the UFC first at light-heavyweight and then later at middleweight before he was cut from the promotion following back-to-back losses to
Nate Marquardt
and
Alan Belcher
.
He most recently signed with Canadian promotion MFC returning to light-heavyweight and lost his debut to up-and-comer Ryan Jimmo.
He was next set to fight Dwayne Lewis, again in the MFC. Instead, about a month before the fight, Lewis was changed to face another more important opponent.
After a lengthy lay-off, Gouveia was next set to once again to face Lewis once again, this time in a five-round non-title fight. Gouveia didn't need five rounds. He didn't even need three. He defeated Lewis via second round TKO.
Gouveia was next rumored to face recent title challenger Rameau Thierry Sokoudjou for the MFC light-heavyweight title recently vacated by Ryan Jimmo when he went to the UFC.
Instead Gouveia next fought outside of the MFC against Kyle Keeney defeating Keeney via a fifty-second TKO after leg kicks and punches. After the Keeney fight in April 2012, Gouveia didn't fight for over a year.
Ad blocker interference detected!
Wikia is a free-to-use site that makes money from advertising. We have a modified experience for viewers using ad blockers

Wikia is not accessible if you've made further modifications. Remove the custom ad blocker rule(s) and the page will load as expected.