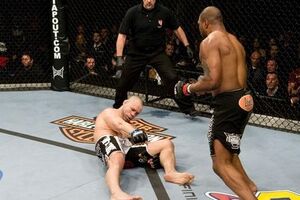 The fight was the third (and possibly) final fight in the epic trio of fights between the two men. Quinton Jackson was coming off of a controversial decision loss to Forrest Griffin in which he had lost the light-heavyweight championship. He had many personal issues after that fight and before the Silva fight. Many thought that he wasn't emotionally ready for a fight with Wanderlei.
The Fight
Edit
The fighters came out. Jackson quickly took the center of the Octagon, throwing a wild right hand and smartly moving back. Silva circled on the inside and threw an inside leg kick. Jackson attempted an uppercut. Silva threw a combination, forcing Jackson to cover up. Silva appeared very cautious. Silva attempted to push forward, holding his hands high. Jackson went for a takedown, Silva defended it and they circled. Silva threw a leg kick and then landed a temple strike. Jackson wildly pushed forward and missed. Silva landed yet another leg kick. Silva pushed forward and Jackson caught the leg kick with his hand and landed a strike. Silva went for a jab. Jackson backed away. Jackson came over the top and knocked out Silva with a left hook to the jaw. The fight was over. Jackson had won one out of three fights, getting his revenge.
Ad blocker interference detected!
Wikia is a free-to-use site that makes money from advertising. We have a modified experience for viewers using ad blockers

Wikia is not accessible if you've made further modifications. Remove the custom ad blocker rule(s) and the page will load as expected.