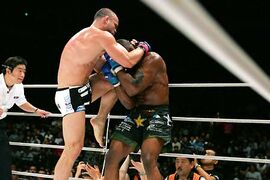 The fight was in the finals of the Pride 2003 Middleweight (205 lbs.) Grand Prix, and Silva was the victor by the now-infamous barrage of knees he delivered to the face of Jackson.
The Fight
Edit
The first round began. Silva threw some strikes early. Jackson went for the takedown but Silva grabbed the standing guillotine against the ropes, locked up good. Silva looked calm. Silva brought it to the ground, still in the guillotine. Jackson pulled his head out but he was still in full guard, and landed some kidney punches. Jackson continuously attempted to posture up and bull out of Silva's guard. Silva went for a tight armbar, but Jackson fought out, moved to side control, landed some ground-and-pound and a left knee to the head. Silva moved it back to full guard. Jackson threw some elbows to the body. Jackson landed some heavy ground-and-pound. Silva was bleeding now just outside of his left eye, presumably from the knee or the ground-and-pound. Jackson postured up and landed some more ground-and-pound. The referee finally stood the fight up after Silva moved it back to full guard once more. The referee yellow-carded Silva.
Silva tried a head kick, threw a knee to the face, went for the trip, landed another knee, another knee, another knee, a knee to the body. Silva landed a leg kick, a head kick, two more knees, three more knees, another four knees, another knee, another knee, another knee, another knee. Jackson looked 'out on his feet'. Another knee. Jackson tried for the takedown. Some soccer kicks now. Silva finished with a pair of rights and a final knee before Jackson collapsed. Silva had won the Pride tournament by decisive knockout.
Ad blocker interference detected!
Wikia is a free-to-use site that makes money from advertising. We have a modified experience for viewers using ad blockers

Wikia is not accessible if you've made further modifications. Remove the custom ad blocker rule(s) and the page will load as expected.