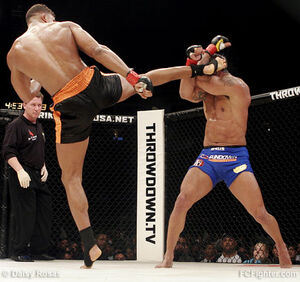 The fight was at heavyweight. Alistair Overeem came out to "America, Fuck Yeah" from Team America.
The Fight
Edit
The first round began and they circled. Overeem pushed forward and ate a hard, stiff jab. Overeem didn't seem fazed, as they circled out. They clinched and Vitor got a very nice, big slam takedown right into side control impressively. Overeem turned and turtled up, but Belfort turned as well and took the back with both hooks. Overeem escaped giving up mount. Overeem escaped again and retained guard nicely. Not much going on, and the crowd showed their lack of appreciation for the stalling on the bottom from Overeem. The referee stood them back up eventually. Belfort shot in, but dropped back into guard when Overeem sprawled. Overeem ended up on top in Vitor's guard looking to punch. Belfort defended well. Vitor avoided damage until the first round ended. The second round began. Overeem came out aggressively missing an elbow. Vitor caught a leg kick and got the takedown. Vitor stood up and over Overeem. He let him up after a bit. They clinched and Overeem landed some knees, and Belfort complained of an illegal groin strike. Belfort shook it off relatively quickly and they continued. Overeem got a takedown into guard. Not much going on. The crowd was booing once more. The referee stood them up after a bit and they immediately clinched once more. Overeem got another takedown into guard. Not much going on. The referee stood them up once more. Overeem got yet another takedown into guard. Vitor got the surprise sweep on top into Overeem's own guard. Not much going on there either, however. The second round ended. The third round began and they touched gloves. Overeem missed a big high kick and shot for the takedown, pushing Belfort against the fence. Belfort defended and stuffed it and they broke. Belfort landed an excellent punch that knocked the sweat from Overeem. Overeem responded by shooting in and Belfort stuffed it to the clinch, Overeem rocked Belfort with an elbow inside and a knee to the body ass well. Overeem got the takedown to guard and they were quickly stood up this time. Overeem got another takedown to guard almost instantly. After a bit, they were stood up again. Overeem landed a few big knees to the body as they circled. Belfort shot in exhausted and settled for pulling guard. Not much going on. They were stood up after a few moments. They clinched, Belfort pulled guard. The crowd was booing and some people were leaving. Belfort got the sweep on top into guard against the fence but the third round ended. Overeem got the unanimous decision. After the fight, Overeem said he would like to fight Tito Ortiz next.
Ad blocker interference detected!
Wikia is a free-to-use site that makes money from advertising. We have a modified experience for viewers using ad blockers

Wikia is not accessible if you've made further modifications. Remove the custom ad blocker rule(s) and the page will load as expected.