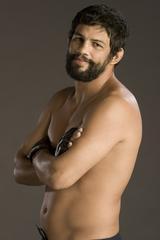 Tony DeSouza is a Peruvian fighter best known for his use of the Peruvian necktie submission and for his stint in the UFC, in which he was cut from the promotion's roster after back-to-back losses to Thiago Alves and Roan Carneiro. His last fight, the Carneiro fight, was in 2007 and it is believed that he is unofficially retired.
Ad blocker interference detected!
Wikia is a free-to-use site that makes money from advertising. We have a modified experience for viewers using ad blockers

Wikia is not accessible if you've made further modifications. Remove the custom ad blocker rule(s) and the page will load as expected.