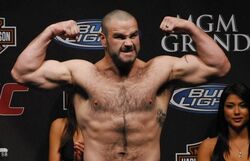 Tim Hague
is a retired fighter that competed in the UFC heavyweight division, holding a notable victory over renowned kickboxer
Pat Barry
there, the first man to defeat Barry in mixed martial arts. Hague was cut from the roster of the UFC after suffering back to back defeats -- suffering the current fastest knockout in UFC history to
Todd Duffee
and losing a very controversial decision to
Chris Tuscherer
.
Hague most recently attempted to make a triumphant return against Joey Beltran but failed, gassing badly and losing a decision to the lighter fighter.
Since being cut from the UFC, Hague has gone on a two-knockout streak in the Aggression MMA promotion (by knee and punches) against Zak Jensen and Travis Wiuff. He then signed an exclusive six-fight deal with the promotion, apparently having found his home outside of the UFC for the time being. Apparently not. Hague was offered a THIRD return to the Octagon and took it, facing off against undefeated Matt Mitrione. Mitrione defeated Hague via vicious first round knockout. It was considered unlikely that Hague would be offered another undeserved break.
Hague was indeed cut and his next fight was outside of the UFC in Canada against Vince Lucero. Hague defeated Lucero via first round guillotine choke submission. Hague next stepped in make his Shark Fights debut, replacing an injured Darrill Schoonover against former WWE wrestler and Strikeforce veteran Bobby Lashley. Hague was soon replaced himself by Dave Huckaba.
After recovering, Hague faced Craig Hudson, winning via first round knockout.
Hague next fought former 185 pound fighter Mike Hackert twice, losing via unanimous decision and first round technical knockout before retiring from mixed martial arts in August 2012.
In March 2013, Hague announced his return to MMA and in April he signed to fight former 185 pound fighter Kalib Starnes who was also coming out of retirement. Starnes defeated Hague via unanimous decision.
Hague next signed in early 2014 to make his WSOF Canada debut against fellow newcomer and veteran Lee Mein.