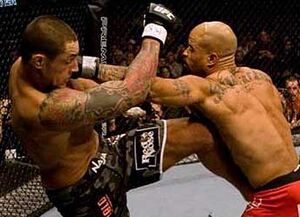 The Fight
Edit
The first round began and they touched gloves. They clinched after a moment. Silva landed a knee after a bit. Alexander landed a knee. Silva landed the knee. Four twenty with the referee breaking them up. Silva landed a knee and a right hand that kind of made Alexander blink. Silva landed an inside leg kick. Four minutes. Silva circling away. Alexander caught a teep. He landed a right hand slightly and they clinched. 'He's got the clinch again, which is what he wants!' Silva landed a knee to the body. Alexander got a nice body-lock to half-guard. Silva stood looking for a single and got it at three twenty-five. He passed to side control. Alexander regained half-guard. Three minutes. Silva mounted. 'He has been mounted here early by Thiago Silva!' 'And he's been mounted by ane xcellent jiu jitsu fighter!' Not much going on. Two thirty. Silva landed some body shots. Silva landed a pair of right hands and a double hammerfist. Silva landed an elbow and another and a right hand. Two ten. The crowd chanted 'Houston!' Two minutes. Silva landed a right hand and a big flurry and Houston was hurt. He hugged. One forty. Silva landed another big flurry and Alexander went limp, another three or four punch flurry and Houston was still limp and the referee stopped it. Damn. Good stoppage judging by the replay especially.
Ad blocker interference detected!
Wikia is a free-to-use site that makes money from advertising. We have a modified experience for viewers using ad blockers

Wikia is not accessible if you've made further modifications. Remove the custom ad blocker rule(s) and the page will load as expected.