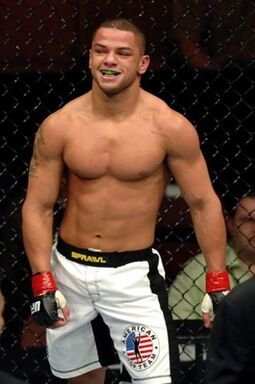 Thiago Alves
is a UFC welterweight contender. He is known for his vicious Muay Thai low kicks.
Coming off of a long multiple-injury layoff, Alves most recently fought a rematch with Jon Fitch to determine who would face the winner of Josh Koscheck vs. Georges St. Pierre for the title. Fitch won by unanimous decision.
He next fought John Howard, winning via unanimous decision.
His next fight was expected to be against the winner of the fight between Carlos Condit and Chris Lytle. Instead, he faced rising powerhouse Rick Story. Story defeated Alves via relatively dominant unanimous decision.
Alves next faced off against Swedish newcomer Papy Abedi, winning via impressive and bloody first-round rear-naked choke submission. A few days after the victory, Alves called out Top 5 contender Jake Ellenberger.
Alves next signed to face fellow contender Martin Kampmann. Alves dominated the fight for nearly fifteen minutes before being choked out with a guillotine by Kampmann in the fight's final minute.
Aalves next signed to face Yoshihiro Akiyama in a possible loser-leaves-town matchup. The fight never materialized and Alves was out for the entirety of 2012 and a large portion of early 2013.
Over a year after the Kampmann fight, Alves finally announced in May 2013 that he had been offered "the best news of his life" and was back to training. Rumors had the opponent as one of two former Strikeforce welterweight champions, Nate Marquardt and Nick Diaz. Instead Alves had signed to fight the brawler and fan favorite Matt Brown.
The fight never materialized. Two years after the Kampmann fight, Alves finally signed in February 2014 to return to action against TUF veteran Seth Baczynski in April 2014. Alves defeated Baczynski via an impressive unanimous decision.
Alves was next set to fight Strikeforce veteran Jordan Mein but he was unfortunately injured in July 2014 and replaced by Brandon Thatch.
After recovering Alves signed in October 2013 to face Mein again.
Ad blocker interference detected!
Wikia is a free-to-use site that makes money from advertising. We have a modified experience for viewers using ad blockers

Wikia is not accessible if you've made further modifications. Remove the custom ad blocker rule(s) and the page will load as expected.