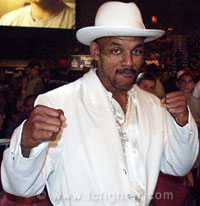 Shonie Carter is a retired welterweight mixed martial arts fighter. He is known to have one of the most unique personalities out of all the fighters.
He most recently fought Jeremy Knafo in a fight in Israel. Knafo defeated him via decision and after the fight (in the ring) Carter announced his retirement and complimented the country of Israel as well.
He soon came out of retirement, however, and he next faced Rumen Dimitrov in Bulgaria losing via corner stoppage between rounds two and three. It was Carter's sixth straight loss.
Shonie next faced Landon Showalter, defeating Showalter via unanimous decision.
He next faced Brandon Halsey in King of the Cage, losing a unanimous decision. Carter then fought Josh Bryant losing a second round technical knockout, his seventh loss in his past eight fights.
After over a year's layoff Carter signed in late October 2013 to fight Matt Dwyer for the BFL Welterweight Title in January 2014. He quit on the stool between the third and fourth rounds to give the Dwyer the ironic TKO retirement victory.
Nearly a year later Carter signed to fight fellow pioneer Shannon Ritch.
Ad blocker interference detected!
Wikia is a free-to-use site that makes money from advertising. We have a modified experience for viewers using ad blockers

Wikia is not accessible if you've made further modifications. Remove the custom ad blocker rule(s) and the page will load as expected.