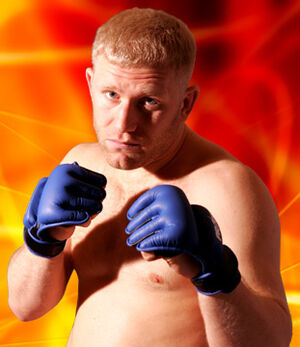 Sergei Kharitonov
is a kickboxer and mixed martial artist. He recently signed to fight in Strikeforce's heavyweight division where longtime rival
Alistair Overeem
reigns as champion.
He was tentatively set to face off in his debut against former UFC heavyweight champion Andrei Arlovski. He was then set to face Antonio Silva, however. The fight was soon called off as Silva was given a title shot against Alistair Overeem. Kharitonov next faced Tatsuya Mizuno at the year-end Dynamite show. He defeated Mizuno via a brutal knockout via a knee in the very first round.
He next debuted in Strikeforce against Arlovski in the first round of the Strikeforce heavyweight tournament. He defeated Arlovski via first-round knockout to advance to the semi-final round. He was expected to face the winner of the fight between Brett Rogers and a fellow Pride veteran in former UFC heavyweight champion Josh Barnett. Barnett was victorious and was set to face off against Kharitonov.
Barnett defeated Kharitonov via first round arm triangle choke.
Kharitonov was next rumored to face either former Pride heavyweight champion Fedor Emelianenko in M-1 Global or fight a rematch against Fedor's brother Aleksander Emelianenko. Instead, Kharitonov next signed to face Tony Lopez.
Kharitonov fought John Delgado instead winning via thirty-four second keylock submission.
Ad blocker interference detected!
Wikia is a free-to-use site that makes money from advertising. We have a modified experience for viewers using ad blockers

Wikia is not accessible if you've made further modifications. Remove the custom ad blocker rule(s) and the page will load as expected.