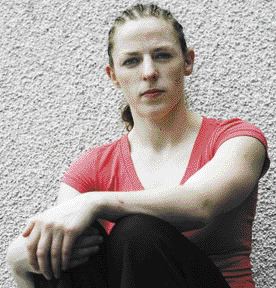 Sarah Kaufman is the former Strikeforce Women's Bantamweight Champion.
She most recently made her first title defense against tough challenger Roxanne Modafferi, knocking Modafferi out via a Rampage Jackson-esque powerbomb slam as she was defending a triangle.
Kaufman next attempted to defend her title for the second time against Marloes Coenen, losing via armbar in the third round in which Kaufman suffered a dislocated elbow and her first mixed martial arts loss.
She next signed with... some other promotion and faced Megumi Yabushita. Kaufman defeated Yabushita via third round technical knockout after dominating the clearly outmatched Yabushita for the majority of the bout.
Kaufman next returned to Strikeforce to face recent title challenger Liz Carmouche. She defeated Carmouche via unanimous decision after a great fight. Kaufman was next set to get another shot at the women's bantamweight title in a rematch against champion Miesha Tate. Kaufman was called out by undefeated judo prospect Ronda Rousey. Rousey wanted to face Kaufman in a true number-one contender matchup.
Instead, Kaufman was snubbed entirely in her hopes for another shot at her title as Ronda Rousey received the shot at Tate. Kaufman was instead signed to face well-rounded contender Alexis Davis. Kaufman defeated Davis via close decision after another great fight.
With the victory, Kaufman earned her shot against women's bantamweight champion Ronda Rousey. She wanted her belt back. Rousey had very little trouble submitting Kaufman in the first round via armbar.
Kaufman is next set to make her Invicta debut against Leslie Smith. Even during her preparation for Smith, Kaufman had already signed a contract with the UFC to fight in their women's bantamweight division. Kaufman defeated Smith via split decision.
Kaufman was next set to make her UFC debut against undefeated Sara McMann. She was instead injured and after recovering signed to make her debut instead against fellow newcomer and Bellator veteran, Jessica Eye. Eye originally defeated Kaufman via split decision in October 2013 but the decision was overturned in February 2014 to a 'no decision.'
Kaufman next signed that month to fight debuting veteran Shayna Baszler. Baszler was injured a few weeks before the fight and then replaced by Strikeforce veteran Amanda Nunes. Nunes herself was quickly injured with a dislocated thumb. Nunes was replaced by Leslie Smith making the fight with Kaufman a rematch.
Ad blocker interference detected!
Wikia is a free-to-use site that makes money from advertising. We have a modified experience for viewers using ad blockers

Wikia is not accessible if you've made further modifications. Remove the custom ad blocker rule(s) and the page will load as expected.