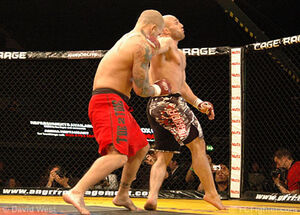 The fight was for the Cage Rage British lightweight title with Abdul Mohamed defending. The fight was a rare knockout by spinning back fist.
The Fight
Edit
The first round began. They circled. Pointon was looking for the right hand. Pointon landed a few inside leg kicks. Pointon landed a leg kick. Mohamed landed a leg kick. Pointon landed a leg kick and another. Mohamed came in and Pointon stuffed the takedown to the clinch and he landed a few knees to the body and another. Three fifty-five. Pointon stuffed another takedown with the underhooks. Pointon worked for a standing guillotine. Mohamed got the takedown to basically side control. Pointon let it go after a moment. Three fifteen. Pointon turned and turtled up. They stood and broke. Three minutes. Mohamed landed a good right hand. Mohamed tried the trip, Pointon avoided and they backed up to the fence in the clinch. Two thirty. Pointon worked the knees to the inside of the knee of the defending champion Mohamed. They broke. Two minutes. Pointon landed an inside leg kick. Mohamed landed a massive spinning back fist out of nowhere and dropped Pointon out cold.
Ad blocker interference detected!
Wikia is a free-to-use site that makes money from advertising. We have a modified experience for viewers using ad blockers

Wikia is not accessible if you've made further modifications. Remove the custom ad blocker rule(s) and the page will load as expected.