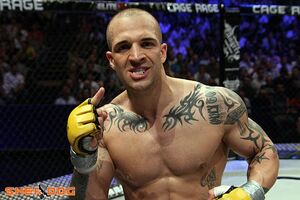 Ross Pointon is a veteran English mixed martial arts fighter. He has competed at heavyweight, light-heavyweight, middleweight, welterweight and lightweight and he defines MMA journeyman. He fought at both middleweight and light-heavyweight on the third season of the Ultimate Fighter reality show, losing to both Kendall Grove and Michael Bisping (his second fight against Bisping, though an amateur bout then.)
Pointon most recently came out of retirement to face off against fellow Ultimate Fighter reality show veteran Dean Amasinger. Amasinger defeated Pointon via unanimous decision.
Ad blocker interference detected!
Wikia is a free-to-use site that makes money from advertising. We have a modified experience for viewers using ad blockers

Wikia is not accessible if you've made further modifications. Remove the custom ad blocker rule(s) and the page will load as expected.