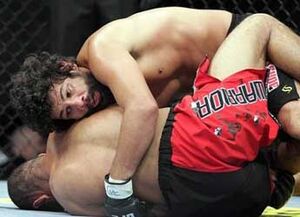 The fight was Tony DeSouza's last fight since 2007, and he was presumably cut from the UFC after the fight.
The Fight
Edit
The first round began and they touched gloves. Carneiro landed a hard inside leg kick. They clinched there. Carneiro had double underhooks Four twenty-five. Carneiro lost it. DeSouza landed a good knee to the body. DeSouza landed another knee. Carneiro got a nice trip to full guard with four minutes remaining. DeSouza worked the rubber guard. He used it to go for a tight armbar. It was deep with three twenty-five. Carneiro was defending. Three fifteen with Carneiro escaping and taking the side back mount. He had the back with one hook now. He got both with three minutes. Carneiro landed some shots from behind to soften DeSouza up. Two thirty. DeSouza turned into guard and passed to half-guard explosively. Carneiro looked for a kimura. Two minutes. A little chess match going on. Carneiro popped the kimura out and theys crambled, DeSouza stayed on top in half-guard with three or four big punches and Carneiro retained guard with one twenty-five. Carneiro landed a pair of elbows from the bottom and then another four elbows. One minute. Carneiro landed four or five big elbows from the bottom. Carneiro landed four more elbows from the bottom. Thirty. Fifteen. DeSouza landed a good elbow himself from the top. The first round ended. DeSouza was smiling and relaxed in his corner comparably. The second round began. They circled. Neither man looked incredibly comfortable striking. Carneiro missed a combination and they clinched with four twenty-five, with double underhooks going to Carneiro. Four ten. The referee wanted action. Four minutes. Carneiro landed a pair of uppercuts inside. The referee broke them up with three forty-seven. Carneiro landed a good inside leg kick. Carneiro landed a good jab. Three twenty-five. DeSouza pressed forward and Carneiro ducked under and got a good double-leg with three fifteen. Three minutes with Carneiro passing to half-guard as DeSouza looked for the kimura. DeSouza gave up his back and stood but Carneiro had the standing back. DeSouza landed some backwards elbows. Carneiro dumped him down and had the back with both hooks, flattened out, he pounded hard in under with five shots, five more in under a moment later. Two fifteen. DeSouza was in trouble. Three hard hammerfists. Seven or eight hard shots in under now. Two more, two more, another. Two minutes. Carneiro landed a shot in under. Another three and another two. Another four and another two and another and the referee stopped it. Good killer instinct by Carneiro. DeSouza was upset, he raised his eyebrows and said he was fine, he thought it shouldn't have been stopped.
Ad blocker interference detected!
Wikia is a free-to-use site that makes money from advertising. We have a modified experience for viewers using ad blockers

Wikia is not accessible if you've made further modifications. Remove the custom ad blocker rule(s) and the page will load as expected.