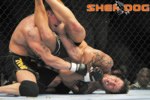 The fight was Travis Wiuff's return to the UFC, in a light-heavyweight bout. It was his second and last fight in the UFC, after a previously unsuccessful debuting loss to Vladimir Matyushenko years before.
The Fight
Edit
The first round began and they touched gloves. Sobral pumped out combinations early and they clinched. Wiuff landed a knee to the body. Sobral landed a few elbows inside.s Wiuff got an excellent throw to side control. Sobral retained guard beautifully. Someone was bloody. Sobral used the fence to stand to the clinch with four minutes. Sobral landed a few foot stomps and he dragged Wiuff down to guard. He landed an elbow. Some body shots. Sobral had a cut on top the of the nose. Sobral landed an elbow and another. Another nice elbow, not much behind it on that one. Three fifteen. Three minutes. Sobral postured up and Wiuff tried to escape and Sobral took the back, Wiuff stood and turned to the guard nicely and they broke. Someone lost their mouthpiece, Wiuff did, and they rinsed it off to put it back in. They continued. Sobral shot for the double and got it to guard. Two thirty-five remaining. Sobral landed a left hand and a right. He turned and turtled Wiuff up. Two fifteen now remaining. Wiuff tried to stand and couldn't. Two minutes. Sobral dropped back for a guillotine, Wiuff pulled out to half-guard. Wiuff was bloody as well, his nose itself. One thirty-five. Sobral turned to turtle up, Wiuff dropped back for a guillotine of his own to guard and missed it. One fifteen. Sobral landed a short hammerfist. Sobral landed a pair of elbows. One minute. Sobral landed an elbow. Sobral landed a left hand and a pair of rights. Thirty with Sobral posturing up and he came down with a right, they stood and broke and clinched again. Sobral landed a knee with twenty. Ten with Sobral landing a nice elbow inside. The first round ended. The second round ended and they touched gloves. Sobral landed a leg kick, Wiuff shot for the single with it and got it to guard. Sobral threw up a triangle, Wiuff avoided, Sobral turned it to an armbar and it was tight and Wiuff tapped.
Ad blocker interference detected!
Wikia is a free-to-use site that makes money from advertising. We have a modified experience for viewers using ad blockers

Wikia is not accessible if you've made further modifications. Remove the custom ad blocker rule(s) and the page will load as expected.