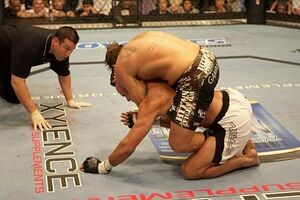 After the fight, Mike Van Arsdale was cut from the roster of the UFC. Renato Sobral had called Van Arsdale the best wrestler in mixed martial arts.
The Fight
Edit
The first round began and they touched gloves. Sobral landed an inside leg kick. He came in and got the clinch against the cage. Not much happening. Four twenty-five. The crowd booed and the referee broke them up. Four minutes with Van Arsdale landing a right hand. Sobral landed a leg kick and grabbed the clinch again. He was trying to get the takedown, Van Arsdale defended with the whizzer and got on top to guard and passed to side control, tried to trap the arm with the knee. Three twenty-five with Sobral turning explosively to take the back. He landed hammerfists in under. He got both hooks in after a moment. He was struggling for the choke. He almost had an arm triangle. He lost a hook. Three minutes. He got the other in. Sobral hda the choke and Van Arsdale tapped with two forty-two remaining. They hugged on their knees. Lots of respect shown by both men. Sobral then went and leapt on the cage and did the belt motion around his waist. He said "where's my fucking belt?"
Ad blocker interference detected!
Wikia is a free-to-use site that makes money from advertising. We have a modified experience for viewers using ad blockers

Wikia is not accessible if you've made further modifications. Remove the custom ad blocker rule(s) and the page will load as expected.