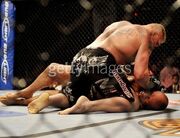 The fight was for the UFC heavyweight championship with Randy Couture defending. Many disputed Brock Lesnar's right to fight for the title after previously going 1-1 in the UFC with a loss to Frank Mir and a win over Heath Herring. Nonetheless, the fight delivered.
The Fight
Edit
The first round began, fighters came out and touched gloves and began circling. They clinched early and Lesnar bulled forward and brought the fight towards the cage. Lesnar utilized good knees in the clinch. Couture turned the clinch and pressed Lesnar up against the cage. They broke the clinch and began circling again. Lesnar went for the takedown and bulled Couture against the cage. Couture defended the takedown successfully but after a few moments, Lesnar threw Couture down by the cage and pushed into half-guard and then he attempted side control before mounting. Couture quickly avoided and grabbed hold of Lesnar's leg, getting the bigger fighter's back. Lesnar spun Couture around back to the ground, and Couture pulled half-guard quickly. Couture got back to his feet and they clinched once more. Couture pressed Lesnar against the cage, and the larger fighter seemed gassed with thirty seconds remaining in round one.
Round two began and the fighters came out without touching gloves and immediately began jabbing. Couture utilized some dirty boxing and caught an elbow and was rocked. Couture wobbled and Lesnar hesitated before going in for the kill, allowing Couture to recover and shove Lesnar against the cage. They broke the clinch and backed off to the center of the cage. Lesnar was cut above the left eye at this point, and Couture pushed forward. They clinched once more and Couture shoved Lesnar back against the fence. They broke the clinch and Lesnar threw a big knee. They went back to strike again and with two minutes remaining, Couture caught a big right and went down. Lesnar began hammerfisting and with one minute and fifty-four seconds left, Mario Yamasaki stopped the fight. Brock Lesnar was the new heavyweight champion.