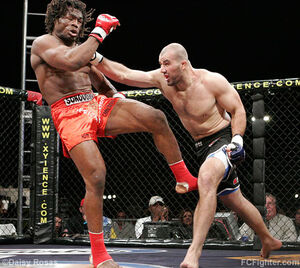 The fight was for WEC. It was Rameau Thierry Sokoudjou's WEC debut and his only fight with the promotion. He came into the fight undefeated.
The Fight
Edit
The first round began and they touched gloves. They exchanged early with Texeira looking much more aggressive but landing nothing. Sokoudjou landed a leg kick. Sokoudjou landed a right hand. Sokoudjou landed another right hand. Texeira couldn't seem to find the range. He landed a right hand and rocked Sokoudjou. He was flurrying but landing nothing. He was trying for a single-leg, Sokoudjou was defending. He kept defending. They broke. Texeira couldn't find the range, he blocked a high kick. He landed a right hand. Sokoudjou landed a jab and a leg kick. Texeira landed a left hook and flurried and landed a right hand and then another massive left hook and Sokoudjou collapsed facedown unconscious. Chuck Liddell leaped up and gave Texeira a hug on the other side of the fence.
Ad blocker interference detected!
Wikia is a free-to-use site that makes money from advertising. We have a modified experience for viewers using ad blockers

Wikia is not accessible if you've made further modifications. Remove the custom ad blocker rule(s) and the page will load as expected.