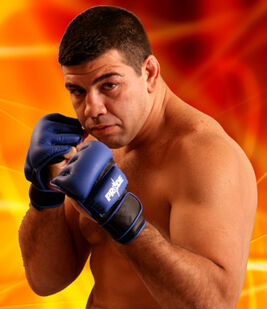 Pedro Rizzo is a retired legend of the sport, having fought in the UFC and Pride. He was known for his knockout power, his once-granite chin that earned him the nickname The Rock, and his excruciatingly devastating leg kicks.
He won his most recent fight against Gary Goodridge as Goodridge reportedly quit between rounds. He next faced fellow veteran and UFC Hall of Famer Ken Shamrock, defeating him with leg kicks and punches in the first three minutes of the fight.
After a lengthy hiatus, Rizzo was next set to make his Pro-Elite debut against former UFC heavyweight champion Tim Sylvia in the main event. Instead Rizzo was injured and forced to pull out of the bout. He was replaced by German prospect Andreas Kraniotakes.
After recovering, Rizzo next signed to face former Pride heavyweight champion and once considered the greatest P4P fighter in the world -- Fedor Emelianenko. Emelianenko knocked Rizzo out in the very first round and retired afterwards.
Rizzo next signed to face another Pride/UFC veteran, the legend Mirko Filipovic. The fight never materialized and Rizzo signed in early May 2013 to face judoka and fellow final Fedor victim Satoshi Ishii. Ishii defeated Rizzo via a unanimous decision.
Rizzo didn't fight for over two years after the back-to-back losses to Emelianenko and Ishii, before fighting his final fight in September 2015 defeating Andrew Flores via TKO by leg kicks at the end of the first round.
Ad blocker interference detected!
Wikia is a free-to-use site that makes money from advertising. We have a modified experience for viewers using ad blockers

Wikia is not accessible if you've made further modifications. Remove the custom ad blocker rule(s) and the page will load as expected.