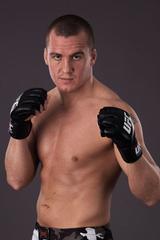 Paul Kelly is a British UFC fighter known for putting on exciting fights, whether he wins or loses. He previously fought at welterweight in the promotion, before dropping to lightweight recently.
He won his last fight by guillotine in a bloodbath against Matt Veach. He most recently fought a grudge match against Jacob Volkmann, losing via unanimous decision.
He was set to next face Gabe Ruediger. Ruediger was injured however, and replaced by TUF 12 preliminary loser T.J. O'Brien. Kelly defeated O'Brien via tko due to elbows midway through the second round. Kelly was next set to face technical striker Sam Stout in what was sure to be a war for the ages. A month before the fight, Stout suffered an injury and was forced to pull out. He was replaced by debuting former WEC contender Donald Cerrone. Cerrone defeated Kelly via second round rear-naked choke submission. After the fight, Kelly was cut from the UFC.
In his first fight out of the UFC, Kelly was set to face Akafasi Stone. However due to an injury Kelly had to withdraw from the bout. Kelly was next set to face Jeff Rexroad but he was forced out of the fight with visa issues. He was replaced by fellow UFC veteran Efrain Escudero.
After recovering, Kelly next signed to make his Super Fight League debut in India against fellow UFC veteran and newcomer Gabe Ruediger. Ruediger was almost immediately injured once again, and replaced this time by Ryan Healy. Healy defeated Kelly via unanimous decision.
Kelly next fought Richard Griffin defeating Griffin via second round guillotine choke before defeating Henrique Santana via first round TKO.
In May 2013 -- two months after the Santana bout -- Kelly was found guilty of heroin trafficking in the UK after a four-day trial. The chances were "high" that Kelly's MMA career was over.
Indeed in June 2013 Kelly was sentenced to thirteen years behind bars.