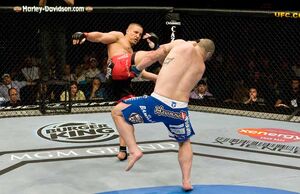 The bout was the UFC debut of Tim Hague and he was a heavy underdog coming into the fight versus undefeated former kickboxer Pat Barry.
The Fight
Edit
The first round began. The newcomer Hague pushed forward quickly, but was sent back by Barry with a flurry of strikes and a high kick. Hague now looked more cautious. He still pushed forward with nothing landing flush from the lunge. He caught a hard head kick from Barry and was rocked. Barry pounced, going for another head kick. Hague recovered quickly and took Barry down hard, moving to side control. He quickly took Barry's back. Barry attempted to sweep Hague. Hague's nose was bloodied up at this point. Hague grabbed the guillotine and sank it in and Barry tapped quickly. Tim Hague had won by guillotine submission. In the post-fight interview, blood ran down from Hague's nose. He talked about how much he loved his wife and his little boy.
Ad blocker interference detected!
Wikia is a free-to-use site that makes money from advertising. We have a modified experience for viewers using ad blockers

Wikia is not accessible if you've made further modifications. Remove the custom ad blocker rule(s) and the page will load as expected.