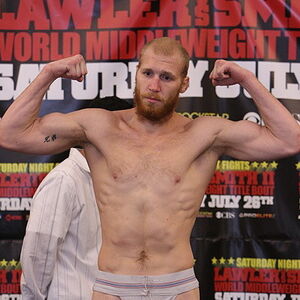 Nick 'The Goat' Thompson is the former BodogFIGHT welterweight champion and he never lost the title, it was simply vacated. He is a retired mixed martial artist. He holds notable victories over Eddie Alvarez, Paul Daley Josh Neer, Ansar Chalangov, Mark Weir and Chris Wilson.
Thompson next competed in Sengoku's welterweight grand prix, fighting in the opening round versus Taisuke Okuno. Okuno knocked Thompson unconscious in a stunning highlight-reel flurry in the third round. Thompson is next set to fight Siyar Bahadurzada in a fight in a tournament in Amsterdam. The tournament was originally rumored to include names like Paul Daley and Shinya Aoki and Marius Zaromskis. The only two promised opponents left to actually compete are Thompson and Roan Carneiro.
Thompson was injured a week before the fight and his friend Derrick Noble agreed to replace him against Siyar Bahadurzada. Thompson next made his Bellator debut in a non-title "superfight" against Bellator welterweight champion Ben Askren. Askren defeated him via unanimous decision. After the loss, he retired.
Ad blocker interference detected!
Wikia is a free-to-use site that makes money from advertising. We have a modified experience for viewers using ad blockers

Wikia is not accessible if you've made further modifications. Remove the custom ad blocker rule(s) and the page will load as expected.