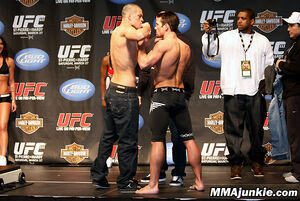 The fight was Nate Diaz's welterweight debut. After the fight, Rory Markham was cut.
The Fight
Edit
The first round began. Markham looked huge, he came in overweight by six pounds. Diaz checked the range as usual. Markham landed a good inside leg kick. Diaz landed a combination. Markham stuffed a takedown. They circled. Markham missed a right hand. Diaz blocked a headkick and landed a good left hand. Diaz landed a leg kick. Markham missed another headkick and they clinched, Diaz landed a knee and they broke. They clinched and broke. Four minutes. Diaz landed a left hand and a leg kick. Diaz landed a jab. Diaz landed a front kick and a right hook. Diaz landed some punches in bunches and a good right hook and a knee and Markham collapsed and turtled up, Diaz took his back with one hook. He landed some heel kicks to the ass and looked for the body triangle, more heel kicks actually to the thigh and he got that other hook in. Markham was cut on his cheek. Diaz pounding in under and looking for the choke. He locked in the body triangle. Two forty. Diaz pounding in under with right hands and let go of the body triangle. He flattened him out pounding hard in under with both hands. Two fifteen remaining, big right hands in under and Miragliotta stopped the fight. Diaz helped Markham up.
Ad blocker interference detected!
Wikia is a free-to-use site that makes money from advertising. We have a modified experience for viewers using ad blockers

Wikia is not accessible if you've made further modifications. Remove the custom ad blocker rule(s) and the page will load as expected.