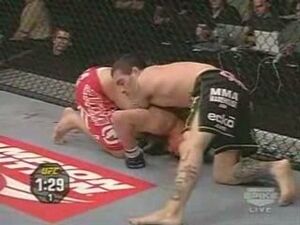 The Fight
Edit
The first round began. They circled. They tested the range. Pellegrino shot and got the single to side control, Diaz gave up his back quickly. Diaz standing halfway, Pellegrino had one hook, Diaz went back down to his knees. Pellegrino landed a hammerfist. Four twenty. Pellegrino turned to turtle Diaz up after a bit. Four minutes with Pellegrino turning to take the back once more. The crowd chanted 'Diaz'. Pellegrino tried a D'arce choke but instead came on top to half-guard, Diaz almost regained guard. Three thirty. Pellegrino landed an elbow slightly as Diaz retained full guard nicely. Three fifteen. Pellegrino landed a good right hand. Pellegrino landed an elbow. Pellegrino was looking to pass. Three minutes with Pellegrino landing a right hand, he passed to half-guard and then side control, and he had the crucifix teeing off with ten or fifteen punches, hard ones. Diaz retained half-guard. Diaz was bloody. Pellegrino landed an elbow as Diaz retained guard. Two twenty. Pellegrino landed another big elbow. Two fifteen. That elbow had hit the cut, too. Pellegrino landed another elbow and passed to half-guard. Two minutes with Diaz giving up the back standing, Pellegrino had no hooks, he got the hooks in. Both of them. Pellegrino turned to turtle him up. One twenty-five. Diaz standing trying a single-leg. He stopped and kneed the leg. Then one minute. They're clinched. The referee wanted work. Thirty-five. Diaz kneed the leg. He landed a pair of shots inside. Diaz had one underhook nicely. Twenty. He kneed the leg a few times. Ten. Diaz kneed the leg. They broke. The first round ended. The second round began. Diaz's right eyebrow was cut. He was southpaw. They circled. Diaz kept faking an uppercut. Pellegrino got a single to half-guard with four twenty-five. Pellegrino moved himself into full guard. Pellegrino landed an elbow to the ear and then another. Another elbow, with the other one. Four minutes. He passed back to half-guard almost. He was almost out. Diaz rolled for a kimura from that almost half-guard. Pellegrino shook his finger at the crowd, like 'no'. Diaz retained guard, shoved Pellegrino off, Pellegrino came down to guard. Three twenty. Pellegrino hammerfisted. Three minutes. Diaz gave up the back. He tried to stand, Pellegrino had the standing back. Diaz got an amazing backwards trip to back side cotnrol, Pellegrino used it to take the back and then Diaz gave up side back mount again. Two twenty-five. Diaz stood halfway to the clinch. Pellegrino tried a single, lifted Diaz and slammed him to guard, Pellegrino avoided a guillotine and got caught in a triangle. Diaz flipped off the crowd with double fingers and Pellegrino tapped after a moment or two.
Ad blocker interference detected!
Wikia is a free-to-use site that makes money from advertising. We have a modified experience for viewers using ad blockers

Wikia is not accessible if you've made further modifications. Remove the custom ad blocker rule(s) and the page will load as expected.