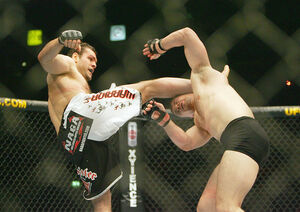 The fight was for the heavyweight number-one contendership, for a chance to face champion Randy Couture. It also featured one of the most shocking finishes in UFC history, with Gabriel Gonzaga knocking out Mirko Filipovic with Filipovic's own signature move, the high kick, to earn a title shot.
The Fight
Edit
The first round began. Mirko circled away. Gonzaga landed a leg kick. Gonzaga landed a right hand. Gonzaga missed a kick. Mirko landed a body kick and Gonzaga caught the kick and got the takedown into Mirko's full guard. Gonzaga landed an elbow and then another. Gonzaga continued landing the elbows. Mirko was cut by the hairline on the left side. Gonzaga continued landing the elbows. Herb Dean finally stood the fight up. Gonzaga had a welt on his body from the single body kick Mirko had landed. Gonzaga landed a head kick and the win by knockout went to Gabriel Gonzaga.
Ad blocker interference detected!
Wikia is a free-to-use site that makes money from advertising. We have a modified experience for viewers using ad blockers

Wikia is not accessible if you've made further modifications. Remove the custom ad blocker rule(s) and the page will load as expected.