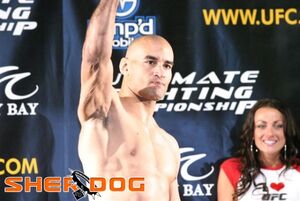 Mike Van Arsdale is a mixed martial artist and trainer who once competed in the UFC's light-heavyweight division. He was cut from the promotion's roster after back-to-back losses to Randy Couture and Renato Sobral. He then fought Jorge Oliveira and Matt Lindland, losing both of those fights as well, and he hasn't fought since the Lindland fight in April 2006.
Ad blocker interference detected!
Wikia is a free-to-use site that makes money from advertising. We have a modified experience for viewers using ad blockers

Wikia is not accessible if you've made further modifications. Remove the custom ad blocker rule(s) and the page will load as expected.