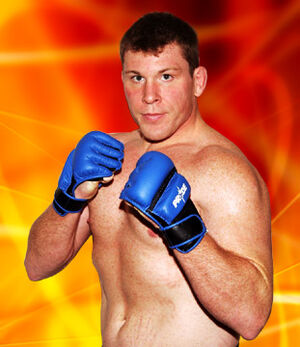 Mike Russow is a heavyweight mixed martial arts fighter currently fighting for the UFC. He has only lost once in his career thus far, to Sergei Kharitonov in Pride.
MMAbouts Wiki currently ranks Mike as the number fourteen heavyweight in the world.
After winning his debut in the UFC against fellow veteran Justin McCully, Russow went on to face the youngster holding the title of fastest knockout in the UFC -- Todd Duffee. No one gave Russow a chance, and for good reason. For nearly fifteen minutes, Duffee gassed himself out landing big shots repeatedly on Russow. Russow never wavered as he simply took the punishment without complaint until out of nowhere he landed a big right hand and knocked Duffee out cold in quite possibly the most shocking knockout in MMA history and positively the best win in Russow's career.
After taking off the rest of 2010 and recovering from a broken left arm sustained in the fight, Russow faced undefeated Jon Madsen. He handed Madsen his first loss via doctor stoppage between the second and third rounds.
Russow was next set to face prospect Dave Herman. Just over a week before the bout, Herman was unfortunately forced to pull out of the fight for controversial reasons. The matchup was scrapped altogether, as a result.
Russow next signed up to face fellow Pride veteran Jon Olav Einemo, winning a unanimous decision. He then fought Strikeforce veteran Fabricio Werdum losing a first round technical knockout.
Russow then fought another Strikeforce veteran Shawn Jordan losing an upset comeback second round technical knockout. Russow was then surprisingly cut from the UFC in February 2013.
Ad blocker interference detected!
Wikia is a free-to-use site that makes money from advertising. We have a modified experience for viewers using ad blockers

Wikia is not accessible if you've made further modifications. Remove the custom ad blocker rule(s) and the page will load as expected.