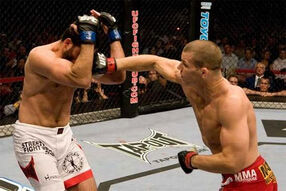 The fight was Michael Bisping's middleweight debut and after the fight, Charles McCarthy retired from mixed martial arts due to a forearm injury he sustained blocking a barrage of knees and uppercuts from Bisping. McCarthy repeatedly taunted Bisping during the fight.
The Fight
Edit
The first round began. They came out slowly, ready to rumble. Both probing shots. McCarthy missed a looping left and some more looping lefts and rights. Four twenty-five. McCarthy blocked a combination, Bisping landed some knees in the clinch and a big uppercut. McCarthy dropped his hands and did some head bobbing tauntingly. Four minutes. Bisping landed a right hand. McCarthy blocked a jumping knee and stuck his tongue out. McCarthy blocked a right hand. McCarthy landed a leg kick. Three twenty. Bisping landed a big knee and an uppercut, picking McCarthy apart. Three minutes. The crowd sang. Bisping landed more clinch knees and an elbow, McCarthy got a big double-leg slam to half-guard. Two thirty-five. Two fifteen. McCarthy turned to take the back as Bisping tried to stand, and he had it sort of, he was high on the back however, McCarthy was trying to turn it to an armbar. Bisping was on top but McCarthy had an armbar locked up but not straightened the arm. One fifteen. Bisping pulled out and pounded in under. McCarthy stood and they broke. Bisping landed an uppercut and another knee. McCarthy blocked a high kick. Thirty-five. Bisping landed an uppercut and some more uppercuts and tehn eight big knees and six more. Three more knees and McCarthy dropped with fifteen left and turtled up, Bisping standing over him pounding in under.Just pounding repeatedly and the first round ended. McCarthy was still laying there though and he waved the fight off due to an arm injury.
Ad blocker interference detected!
Wikia is a free-to-use site that makes money from advertising. We have a modified experience for viewers using ad blockers

Wikia is not accessible if you've made further modifications. Remove the custom ad blocker rule(s) and the page will load as expected.