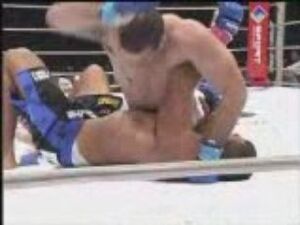 The fight was the finals for the Pride 2005 Middleweight grand prix. Ricardo Arona had defeated Wanderlei Silva in the pair's first fight earlier in the night and Mauricio Rua had defeated Alistair Overeem in THAT pair's first fight.
The Fight
Edit
The first round began. Shogun missed a turning side high kick after a bit. Arona came in and got the takedown to guard. Shogun rolled for an omoplata and he had it basically. It was in pretty tight. Arona was out and Shogun landed a knee on the way up and dropped Arona and a stomp kick. Arona pulled half-guard. Shogun stood, tripping while trying a stomp. Shogun landed a right hand and grabbed the plum iwth a knee. They broke. They clinched, Arona got Shogun down and turtled him up. They stood to the clinch. Shogun landed a knee to the body. Arona landed a knee to the body. Arona landed a knee. Shogun got the trip to guard and then passed to half-guard nicely. Shogun was trying to pass. He passed to side control. He landed a few elbows to the ribcage nicely. Shogun landed a knee. Shogun tried to mount and stood instead. He missed a flying stomp. He landed a stomp and a hard hammerfist and another and Arona was out and another pair of hammerfists before the referee shoved him off. Shogun was the tournament winner.
Ad blocker interference detected!
Wikia is a free-to-use site that makes money from advertising. We have a modified experience for viewers using ad blockers

Wikia is not accessible if you've made further modifications. Remove the custom ad blocker rule(s) and the page will load as expected.