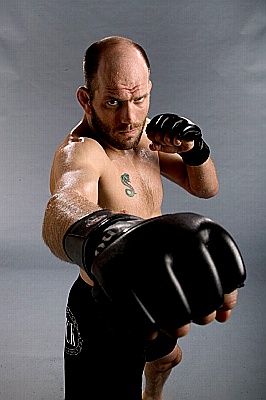 Matt Lindland is a retired veteran of the sport who has fought in the UFC, Affliction and most recently in Strikeforce.
He won his last fight dominantly against Kevin Casey. He was next set to face a star from the seventh season of The Ultimate Fighter, Cale Yarbrough. Instead, his opponent was changed to middleweight prospect Luke Rockhold. Rockhold was injured about a month before the fight was set to occur and a replacement -- if any -- is unknown.
The date was moved to December 4, and Lindland's opponent was changed to Robbie Lawler. Lindland was defeated by Lawler via spectacular knockout. I think he's dead. Lindland was next set to face Mamed Khalidov in the Polish promotion KSW. A few weeks before the fight, Lindland suffered an injury and pulled out. He was replaced with fellow UFC veteran James Irvin.
After Khalidov defeated Irvin, Lindland was again slated to face off against him. Khalidov choked Lindland unconscious in the first round with a guillotine choke submission. After the fight, Lindland said that he was "pretty much done competing."
Ad blocker interference detected!
Wikia is a free-to-use site that makes money from advertising. We have a modified experience for viewers using ad blockers

Wikia is not accessible if you've made further modifications. Remove the custom ad blocker rule(s) and the page will load as expected.