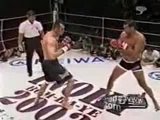 Both fighters came into the fight undefeated.
The Fight
Edit
The first round began. Franklin landed a leg kick. Machida landed a leg kick. Twenty in. Franklin partially blocked a high kick. Thirty-five in. Franklin blocked a kick to the shoulder. A minute in and they clinched together. Franklin landed a pair of knees to the body. Machida got the trip to half-guard. Franklin retained guard. One forty-five. 'Control the wrists!' Two minutes. Two twenty. Machida landed a left hand downwards. Two fifty. 'Get that butterfly guard in!' Three minutes. Machida stood eating an upkick. Machida kicked the leg, landed a body kick and a headkick as Franklin stood. 'You've gotta take this round back!' Machida landed a spinning back kick to the leg. They clinched. They broke. Four minutes. Machida landed a straight left and Franklin dropped, Machida pounced to guard pounding away, Franklin was through the ropes. Machida kept on him. Four twenty-five. The referee moved them to the center. Four thirty-five. Franklin looked for a guillotine, used it to stand and break. Franklin landed aleg kick. They clinched and Franklin landed a knee. The first round broke. The second round began and they touched gloves. Twenty. Machida missed an inside leg kick. Franklin landed a straight left and missed a turning side kick a moment later. They clinched and broke. Forty seconds in. Fifty-five. Machida landed a straight left and a big knee and Franklin collapsed and it was all over.
Ad blocker interference detected!
Wikia is a free-to-use site that makes money from advertising. We have a modified experience for viewers using ad blockers

Wikia is not accessible if you've made further modifications. Remove the custom ad blocker rule(s) and the page will load as expected.