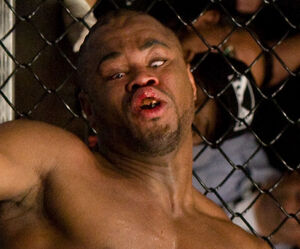 The fight marked the first occasion that two undefeated fighters faced off for a UFC championship belt with Rashad Evans defending.
The Fight
Edit
The first round began, and the fighters came out without touching gloves. The two fighters circled. Machida looked like the aggressive one, strangely. Four minutes remained. Scattered boos began. Evans began to look frustrated and he tried for a leg kick. It was a battle of patience, as Goldberg stated. Machida tried for a kick and Evans showboated it off. Evans pushed forward with no clean hits. Two minutes remained. Machida landed a kick to the midsection. Evans tried a inside leg sweep but didn't sweep Machida. Evans tried to find the range for a jab. Machida pushed forward and they clinched, but Evans broke the clinch and they circled. One minute now remained.Machida pushed forward and put Evans on his back with a straight left hand, ground-and-pounding heavily. Evans looked worried. They pushed the fight to their feet and circled once more. Twenty seconds remained. Machida tried a switch kick. Machida tried for another body kick. The round had to go to Machida, as Goldberg stated. The round ended.
The second round began and Machida extended his glove, but Evans did not touch. They circled. The crowd began chanting 'Machida'. Machida landed a body kick and clinched, shoving Evans against the cage. They broke away and circled. Rogan sounded very caffeinated in the commentary. Evans tried for a punch and Machida flurried with so many punches to Evans' face that it was blurred. They circled. Machida landed a body kick. Evans landed a body kick. He tried for another kick. Two minutes remained. Machida flurried again and knocked Rashad down. Rashad kept wobbling, getting punched repeatedly. They staggered back. Machida landed a kick and then more strikes and then suddenly Rashad was twisting backward to the ground, knocked out and Machida was the new UFC light-heavyweight champion.