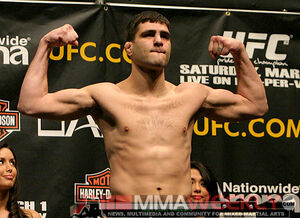 Luke Cummo is a retired former welterweight fighter.
Cummo was the runner-up on the second season of The Ultimate Fighter in the welterweight division losing to Joe Stevenson. He is one of two mixed martial arts fighters who is well-known to engage in 'urine therapy' -- drinking his own urine for presumed therapeutic benefits -- the other being current undefeated UFC light-heavyweight champion Lyoto Machida.
Cummo has had several personal issues since his last UFC fight in 2008. His wife had divorced him and he lost visitation and custody rights over his two children. In November 2013 a warrant was put out for Cummo after he threatened his ex-wife and released v-logs while in hiding.
Ad blocker interference detected!
Wikia is a free-to-use site that makes money from advertising. We have a modified experience for viewers using ad blockers

Wikia is not accessible if you've made further modifications. Remove the custom ad blocker rule(s) and the page will load as expected.