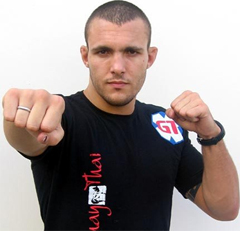 Luis Cane is a mixed martial arts fighter known for his aggressiveness and knockout power. He is a middleweight fighter and formerly a light-heavyweight fighter.
Cane most recently faced off against fellow dangerous striker Cyrille Diabate in Diabate's debut inside the Octagon. In a hard-hitting yet short war, Diabate knocked Cane unconscious with a series of punches. With the loss, Cane is on a two-fight losing streak with back-to-back knockout losses to Diabate and Antonio Rogerio Nogueira.
After some time off, Cane was next set to face Karlos Vemola. Vemola suffered a mouth infection a few weeks before the bout and pulled out. He was replaced by well-rounded Eliot Marshall. Cane defeated Marshall via first-round technical knockout. He next faced undefeated newcomer Stanislav Nedkov, losing via first-round technical knockout and probably sealing his fate inside the UFC.
Instead, Cane next dropped to middleweight after the loss. He made his debut against Chris Camozzi, losing via unanimous decision in his native Brazil. After the second straight loss and his fourth loss in five fights, Cane was cut from the UFC.
Ad blocker interference detected!
Wikia is a free-to-use site that makes money from advertising. We have a modified experience for viewers using ad blockers

Wikia is not accessible if you've made further modifications. Remove the custom ad blocker rule(s) and the page will load as expected.