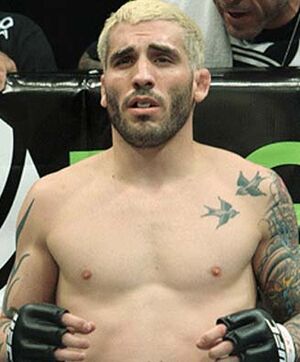 Kurt 'Batman' Pellegrino
is a tentatively retired lightweight fighter.
He most recently faced fellow highly-ranked contender George Sotiropoulos and lost a unanimous decision. After taking some time off, he faced Gleison Tibau losing via controversial split decision.
After the loss to Tibau, Pellegrino decided to take a hiatus from MMA. He 'stepped away from the sport as a fighter' and didn't renew his contract with the UFC. A few days later, Pellegrino officially announced his retirement from mixed martial arts.
He returned several months later to make his Bellator debut against lightweight tournament finalist Patricky Freire. Freire blasted Pellegrino in under a minute with a first-round TKO. The New Jersey crowd chanted "Bullshit."
Pellegrino retired after the bout -- briefly.
Pellegrino was next set to compete in Bellator against Marcin Held but he was injured and forced to pull out of the bout.
After recovering Pellegrino was next set to face Saul Almeida. The fight didn't materialize and in January 2014 after his student George Sullivan won a close UFC debut, Pellegrino allowed himself to admit that he was retiring for good.
Ad blocker interference detected!
Wikia is a free-to-use site that makes money from advertising. We have a modified experience for viewers using ad blockers

Wikia is not accessible if you've made further modifications. Remove the custom ad blocker rule(s) and the page will load as expected.