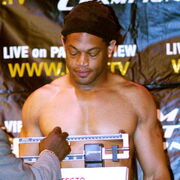 Kevin 'The Shaman' Jordan is a heavyweight mixed martial artist. He is best known for his short-lived two-fight stint in the UFC years ago, dropping back-to-back losses to Paul Buentello and Gabriel Gonzaga before being cut.
He most recently fought Branden Lee Hinkle. Hinkle won via first-round technical knockout.
Ad blocker interference detected!
Wikia is a free-to-use site that makes money from advertising. We have a modified experience for viewers using ad blockers

Wikia is not accessible if you've made further modifications. Remove the custom ad blocker rule(s) and the page will load as expected.