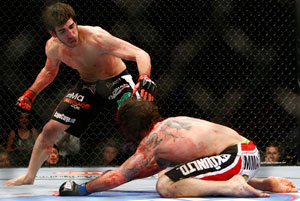 Both men were coming off losses, Kenny Florian in a second failed bid for the lightweight title against B.J. Penn and Clay Guida against Diego Sanchez.
The Fight
Edit
The first round began. Florian came out with a low stance. The crowd chanted 'Guida'. Guida landed a good leg kick. Florian was southpaw. Guida landed a leg kick. He tried an inside leg kick. Florian landed a counter left. Four twenty-five. Florian blocked a high kick. Guida landed a good uppercut. Four minutes. Guida blocked a high kick and shot forward for a double-leg to guard, Florian controlled the arms. Guida landed a left hand and an elbow. Three thirty-five. Florian kept the feet on the hips and he finally shoved him off and they broke. Three fifteen. Florian had a tiny cut on the right eyebrow from that elbow. Guida landed a leg kick. Guida missed a push kick. Florian landed a leg kick. The crowd chanted 'Guida'. Two twenty-five. Florian avoided a takedown attempt entirely. Florian landed a knee, got it caught and pulled away. Two ten. Guida landed another leg kick. Two minutes. They exchanged missing. Florian landed a right and a left. One thirty-five with Florian getting a single-leg, Guida stood eating a knee. One twenty. Florian landed an elbow standing and Guida dropped down looking for a single, Florian sprawled. Guida tried to press forward and Florian stayed on top in side control, they stood and broke. Guida was cut. Florian tried a knee and came for a double-leg and slammed Guida down, Guida was on his knees. Florian pounded in under. Twenty-five. Florian landed a pair of elbows. The fight was paused with nineteen. The crowd booed. Guida checked the cut on the big screen and nodded. They couldn't find the cut in Guida's hair. Guida burped and they let him continue. Guida landed a leg kick. Florian landed a good jab. The first round ended. They checked out the cut in the corner and you could see the cut. The second round began. They circled, Florian had a low stance once again. Florian pumped out that jab. Guida was anxious to get in there. Guida landed a leg kick. Guida shot for the single, Florian sprawled it excellently. Guida stood out. Four fifteen. The blood was in Guida's left eye. Florian landed a good jab. Four minutes. Florian landed a jab. Florian landed a right hook. Three thirty-five. Guida landed a leg kick. Guida missed a big uppercut. Guida missed a sloppy Superman punch. Three minutes with Florian dropping Guida with a left-right hard and he had the back on the ground. He took the back with both hooks and the choke and Guida tapped with two forty-three remaining. Guida stood immediately and circled the Octagon walking. They hugged. 'You're a fucking warrior, dude,' Florian told him very audibly.
Ad blocker interference detected!
Wikia is a free-to-use site that makes money from advertising. We have a modified experience for viewers using ad blockers

Wikia is not accessible if you've made further modifications. Remove the custom ad blocker rule(s) and the page will load as expected.