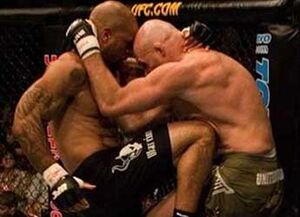 The fight was the UFC debut of Houston Alexander and it was considered a huge upset.
The Fight
Edit
The first round began and they touched gloves. They clinched, Jardine landed a right hand and broke away. Jardine landed a left body shot and a right hand and rocked Alexander, tehy clinched, Alexander landed a trio of right hands inside and a big uppercut and dropped Jardine, he landed antoehr and another as Jardine stood, Jardine stood and ate a big knee and fell, and ate a knee to the chest and an uppercut and dropped fully and it was all over. What an upset.
Ad blocker interference detected!
Wikia is a free-to-use site that makes money from advertising. We have a modified experience for viewers using ad blockers

Wikia is not accessible if you've made further modifications. Remove the custom ad blocker rule(s) and the page will load as expected.