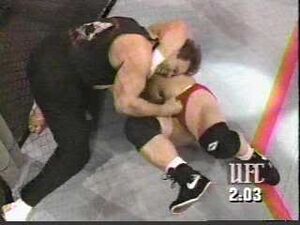 The fight was in the quarterfinals of the UFC 4 tournament. Keith Hackney went on to be defeated by Royce Gracie in the semifinals. The fight was marked by many legal groin blows to Joe Son by Hackney. Son carried a giant cross on his back to the Octagon just as his protege, Kimo Leopoldo, had in the previous UFC 3 tournament.
The Fight
Edit
The first round began. Son came out quickly. He was much shorter. Hackney missed a front kick snapping it out there. Son had his hands low. Hackney landed a leg kick. Hackney landed a leg kick and came in and Son got a good takedown to half-guard. Hackney turned and turtled up. One minute in. The referee told them to keep working. Son looking for a guillotine. Hackney stood avoiding it but the choke was in. Son pushed Hackney to the fence. Hackney got the takedown to side control. He landed a few punches to the thigh. Another pair to the groin and another. Another. Another. Two minutes in. Another. A short pause. Not much happening. Son tapped actually at two forty-two. Wow. To what, though? Wow.
Ad blocker interference detected!
Wikia is a free-to-use site that makes money from advertising. We have a modified experience for viewers using ad blockers

Wikia is not accessible if you've made further modifications. Remove the custom ad blocker rule(s) and the page will load as expected.