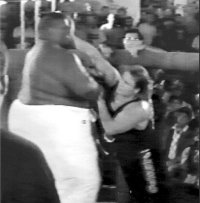 Keith Hackney is a retired mixed martial artist. He is best known for his UFC 4 tournament quarterfinal bout against Joe Son, which unfortunately ended due to a number of legal groin strikes delivered to Son by Hackney.
Keith Hackney vs. Joe Son - The fight was in the quarterfinals of the UFC 4 tournament. Hackney went on to be defeated by Royce Gracie in the semifinals. The fight was marked by many legal groin blows to Joe Son by Hackney. Son carried a giant cross on his back to the Octagon just as his protege, Kimo Leopoldo, had in the previous UFC 3 tournament.
Ad blocker interference detected!
Wikia is a free-to-use site that makes money from advertising. We have a modified experience for viewers using ad blockers

Wikia is not accessible if you've made further modifications. Remove the custom ad blocker rule(s) and the page will load as expected.