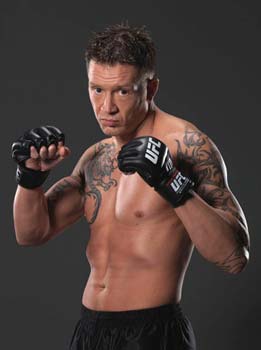 John Kolosci is best known for his stint on the sixth season of The Ultimate Fighter reality show, and the fact that he fought the show's eventual winner Mac Danzig twice on the show fearlessly, losing both times obviously. He lost his second chance as well, his UFC debut against castmate Matt Arroyo, and he was thus cut from the promotion's roster afterwards.
He is coming off of a big forty-two second rear-naked choke win over fellow UFC veteran Luigi Fioravanti and he has used the momentum to sign a one-fight deal with Bellator. He faced Kenny Robertson in his Bellator debut, losing via keylock submission. He was next set to fight Tat Romero outside of Bellator of course, but the fight never took place.
He next faced fellow UFC veteran Forrest Petz, losing via second-round technical knockout after being dropped with a body shot. Kolosci reportedly broke his right hand midway through the bout's first round.
After recovering, Kolosci next signed to face fellow UFC and Bellator veteran Ryan Thomas. Thomas defeated Kolosci via first-round rear-naked choke submission.
Ad blocker interference detected!
Wikia is a free-to-use site that makes money from advertising. We have a modified experience for viewers using ad blockers

Wikia is not accessible if you've made further modifications. Remove the custom ad blocker rule(s) and the page will load as expected.