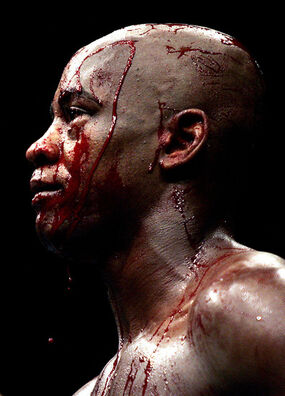 The fight was, especially at that time, considered one of the most bloody fights in UFC history.
The Fight
Edit
The first round began, and the fighters touched gloves. The fighters circled for a bit, in what was known as the feeling-out process. Edwards threw a leg kick. Stevenson went for the takedown and nearly got it, but Edwards defended. Stevenson got the leg and got Edwards down into full guard position. Stevenson pushed Edwards toward the fence and Edwards scrambled to his feet. Edwards landed a nice high kick and dropped Stevenson with some strikes and went into Stevenson's full guard. Stevenson locked in a body crush. Stevenson let it go finally and went back to full guard. Edwards threw some good elbows. Edwards stood up and let Stevenson up. They clinched and Edwards landed a good knee. Edwards tried for a jumping triangle and then transitioned almost instantly to an armbar and then finally went down with Stevenson in his full guard and Stevenson landed some big, big elbows after posturing up. Repeated barrage of elbows came down on Edwards' face. Stevenson postured up and landed more elbows before standing, grabbing the leg from the clinch and tried for the takedown. Edwards was bloodied up on the forehead now. Edwards brought it down in a triangle choke with fifteen seconds left. Edwards tried again for an armbar. The first round ended. The crowd cheered.
The second round began. The fighters touched gloves. Edwards threw a leg kick. Edwards landed a good straight left. Edwards landed a Superman punch. Stevenson went for the takedown, grabbed the leg, went down into half-guard. Edwards tried for the guillotine. Stevenson went for full guard though and Edwards obliged. Stevenson landed another big elbow and carried Edwards towards the fence once more. Stevenson postured up and landed the ground-and-pound. A big gash was opened up on Edwards' forehead now and blood was everywhere. Stevenson continued raining down elbows and ground-and-pound from the postured-up position. A pair of massive elbows. And then another pair. The fight was stopped for a moment to check the cut. Blood was absolutely everywhere. Edwards said he wanted to continue and the crowd cheered. The referee put them back in the same position. Stevenson immediately postured up once more and began landing more ground-and-pound. Stevenson landed more elbows from half-guard. Fifteen seconds remained. They stood. The second round ended. The doctors stopped the fight after looking at the cut. Joe Stevenson had won by doctor stoppage.
Ad blocker interference detected!
Wikia is a free-to-use site that makes money from advertising. We have a modified experience for viewers using ad blockers

Wikia is not accessible if you've made further modifications. Remove the custom ad blocker rule(s) and the page will load as expected.