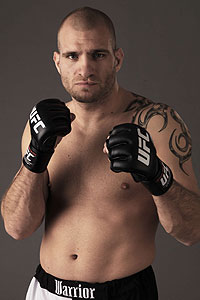 Joe Doerksen is a retired middleweight mixed martial artist who was known for his submission skills. He fought in the UFC, Sengoku and the WEC.
He most recently returned to the UFC after two years away from the promotion, replacing an injured Tim Credeur to fight against Tom Lawlor with about two or three weeks notice. He defeated Lawlor via second-round rear-naked choke after Lawlor gassed.
He most recently faced upstart C.B. Dollaway, losing via guillotine. He next faced Dan Miller, losing via split decision. After the loss to Miller, Doerksen was cut from the UFC. He next faced Bellator middleweight champion Hector Lombard for Lombard's CFC middleweight title. Lombard defeated Doerksen via first-round doctor stoppage to hand him his third straight loss.
Doerksen next faced fellow UFC veteran Luigi Fioravanti. He defeated Fioravanti via a very close and exciting unanimous decision.
Doerksen next faced Bellator veteran Brett Cooper. Cooper defeated Doerksen via vicious first round TKO.
Doerksen next fought Joel Powell defeating Powell via second round rear-naked choke submission.
He then fought Kalib Starnes who was coming out of retirement for the bout. He defeated Starnes via unanimous decision.
Doerksen next fought Mike Kent. He defeated Kent via first round armbar submission before next defeating Tony Lopez via unanimous decision at light-heavyweight. A little under a year later Doerksen retired from MMA, stating "I can still tie my shoes and remember my name" after sixty-seven fights.
Ad blocker interference detected!
Wikia is a free-to-use site that makes money from advertising. We have a modified experience for viewers using ad blockers

Wikia is not accessible if you've made further modifications. Remove the custom ad blocker rule(s) and the page will load as expected.