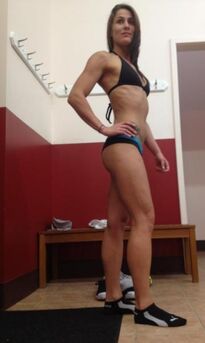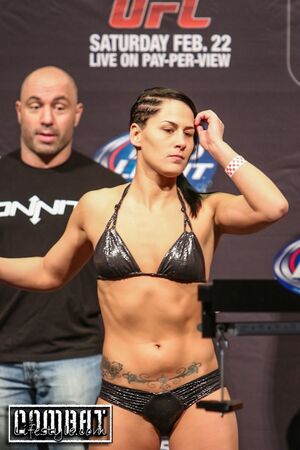 Jessica Eye is a bantamweight female fighter competing for the UFC and formerly a flyweight competing for Bellator.
Eye most recently defeated former Bellator female champion Zoila Gurgel via a stunning upset technical standing arm triangle choke submission.
She next fought Strikeforce veteran Carina Damm winning a unanimous decision.
Eye next moved up to bantamweight to make her UFC debut against former Strikeforce women's bantamweight champion and fellow UFC newcomer Sarah Kaufman. Eye defeated Kaufman via a split decision in October 2013 but several months later at the start of February 2014 the Texas State Athletic Commission overturned the result to a 'no decision.'
Eye was next set to fight Alexis Davis. She was unfortunately fined after failing a drug test for marijuana after the Kaufman fight and she was also suspended for one year from October 2013. The fight with Davis was oddly enough left to continue unabated.
Eye gave it her best against the larger Davis but unfortunately she was defeated via a close and competitive split decision.
After a bit of a layoff Eye next stated her desire to be the first to welcome undefeated prospect Holly Holm to the Octagon.
Instead Eye next fought Leslie Smith in the UFC's debut event in Mexico. Eye's striking looked fantastically improved outstriking Smith en route to a second round TKO victory after bursting Smith's cauliflower ear and nearly severing the ear itself.
Eye next signed for the biggest fight of her career against former Strikeforce women's bantamweight champion and UFC women's bantamweight contender Miesha Tate. Tate defeated a tough Eye convincingly via unanimous decision.
Eye put herself immediately back in the mix signing to fight undefeated contender Julianna Pena.
Ad blocker interference detected!
Wikia is a free-to-use site that makes money from advertising. We have a modified experience for viewers using ad blockers

Wikia is not accessible if you've made further modifications. Remove the custom ad blocker rule(s) and the page will load as expected.