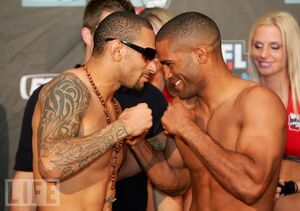 The fight was considered a mild upset for Brad Blackburn with the quick knockout victory.
The Fight
Edit
The first round began. They circled. They sized each other up. Hieron landed a body kick. Blackburn pumped the jab. Blackburn landed a big right hand and Hieron collapsed to both knees and ate hammerfists in under and it was all over, the referee shoved Blackburn away and Hieron rolled onto his back looking shocked.
Ad blocker interference detected!
Wikia is a free-to-use site that makes money from advertising. We have a modified experience for viewers using ad blockers

Wikia is not accessible if you've made further modifications. Remove the custom ad blocker rule(s) and the page will load as expected.