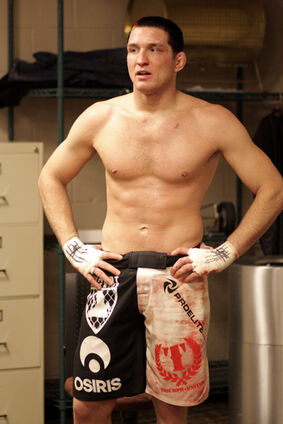 Jason Miller is a fighter that has fought at light-heavyweight, middleweight and welterweight. He was considered one of the most eccentric personalities in MMA, and he is the host of MTV reality show Bully Beatdown.
After coming off of his suspension for the Strikeforce Nashville post-fight brawl, he was most recently expected to fight in the Strikeforce middleweight tournament to decide the number-one contender for the title. Instead, he fought the Japanese legend Kazushi Sakuraba in Dream. He became the first man to ever submit the legend, with an arm triangle choke in the first round.
Miller then spent the next few months bickering over a possible grudge match with Nick Diaz. Instead, in mid-December, Miller was rumored to be fighting a rubber match against Tim Kennedy in January. Instead, Kennedy faced Melvin Manhoef.
After months of uncertainty, Miller's Strikeforce contract expired in March 2011 and he signed with the UFC on April 22. He was next set to make his return to the UFC against wrestler Aaron Simpson. Instead, the UFC announced that Miller would coach the fourteenth season of The Ultimate Fighter against UFC middleweight contender and TUF winner Michael Bisping. The two men were set to fight at the end of the show. Miller was replaced against Simpson ironically by TUF veteran Brad Tavares. After filming had been completed, Miller was arrested on charges of assaulting his sister.
Miller was all set to face Bisping at the TUF 14 finale. The winner was announced to be facing contender Chael Sonnen for the right to face UFC middleweight champion Anderson Silva. Bisping defeated Miller via violent third-round technical knockout after Miller gassed out due to an adrenaline dump. Miller suffered a broken nose sometime during the bout and was out for six months afterward as a result.
UFC president Dana White and many fans stated after the fight that "Mayhem"'s standup was visually some of the worst they had seen inside the Octagon. After recovering from his injuries, Miller next signed to face TUF runner-up C.B. Dollaway. Dollaway defeated Miller via unanimous decision and Miller was cut from the UFC afterwards and retired.
Miller suffered a very public and very embarassing legal downfall afterwards, being arrested at least twice and most recently goading UFC fighter Uriah Hall into hitting him at a regional event in October 2013. Miller stated afterwards that he wanted to return to MMA and repeated his taunts of Hall: "bitch-ass nigga."
Miller drifted into the spotlight until February 2016 when he announced his return to MMA. He would make his Venator FC debut against champion Luke Barnatt.
Ad blocker interference detected!
Wikia is a free-to-use site that makes money from advertising. We have a modified experience for viewers using ad blockers

Wikia is not accessible if you've made further modifications. Remove the custom ad blocker rule(s) and the page will load as expected.