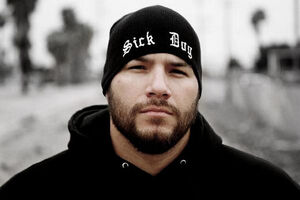 Hector 'Sick Dog' Ramirez is a fighter best known for his short stint in the UFC in which he was cut after back-to-back losses to James Irvin - by TKO - and Forrest Griffin - by a grueling leg kick-fueled decision.
He most recently fought Matti Makele and won via third-round corner stoppage. Ramirez then didn't fight for nearly two years before signing to make his Bellator debut in the quarterfinals of the season eight light-heavyweight tournament against fellow newcomer and UFC veteran Jason Lambert.
Ad blocker interference detected!
Wikia is a free-to-use site that makes money from advertising. We have a modified experience for viewers using ad blockers

Wikia is not accessible if you've made further modifications. Remove the custom ad blocker rule(s) and the page will load as expected.