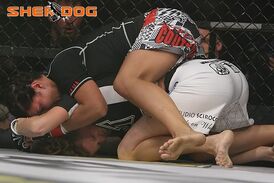 Evinger had said at the weigh-in that she would rather 'make out with Gina Carano but instead she was going to have to knock her out.'
The Fight
Edit
The first round of the three three-minute round fight began. Evinger landed a right hand and got the takedown into side control. Evinger went for full mount but was unsuccessful. She managed to make it into half-guard. Evinger went for a guillotine choke from the half-guard. Carona sweeped and got out of the guillotine and got on top and went into Evinger's half-guard. Carano got to a crouch, shoving Evinger to the fence. Carano got Evinger's back and went for the rear-naked choke. Thirty seconds remained in the first round. With eight seconds remaining, Evinger tapped out to the rear-naked choke. It was Carano's first submission victory.
Ad blocker interference detected!
Wikia is a free-to-use site that makes money from advertising. We have a modified experience for viewers using ad blockers

Wikia is not accessible if you've made further modifications. Remove the custom ad blocker rule(s) and the page will load as expected.