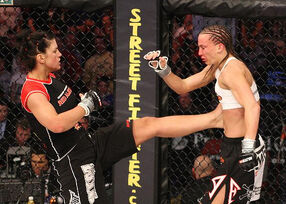 The fight was ended due to doctor stoppage after two rounds.
The Fight
Edit
The first round began in the EliteXC fight. Carano landed some push kicks. Young landed a leg kick. Carano got the takedown into Young's full guard. Carano brought the fight back to the feet and Young broke away. Carano landed a big right. Young tried a body kick. Carano landed a push kick, and threw a right hand. Young landed a high body kick. They clinched. The crowd chanted 'Gina'. Carano got the takedown, pulling Young down into full guard. The referee told them to work. Young stood and landed a hard shot from the top. Carano stood and Young tried a high kick. Carano landed a roundhouse kick to the body. Young tried a high kick. Young landed a leg kick, responded by Carano. Carano was breathing heavy. Carano landed a looping right hand. The first round ended.
The second round began. Carano threw a leg kick. Young landed a leg kick. Carano threw a body kick and Young grabbed it and threw a knee to the thigh of Carano. Young landed a stiff right. Young landed a hard leg kick and another. Young threw two high kicks, tried a spinning back kick. Carano landed two stiff jabs, one to Young's throat. Carano looked winded. Young tried a high kick. Carano began landing some heavy shots. Young was rocked, with her eyes tearing up from a nose shot. They clinched and Young landed some knees. Young broke. Carano threw a push kick. Carano hit Young with a heavy shot. Young was still rocked. They clinched. One minute remained. Young was reeling as Carano continued teeing off into Young's face. Carano landed the push kick and dropped Young backwards. Carano took a kneeling Young's back. Twenty-five seconds remained. Carano sank in the rear-naked choke with ten seconds remaining. Young wouldn't tap however. The second round ended. Young was swollen heavily under her right eye. The doctor stopped the fight. Carano had won by doctor stoppage.
Ad blocker interference detected!
Wikia is a free-to-use site that makes money from advertising. We have a modified experience for viewers using ad blockers

Wikia is not accessible if you've made further modifications. Remove the custom ad blocker rule(s) and the page will load as expected.