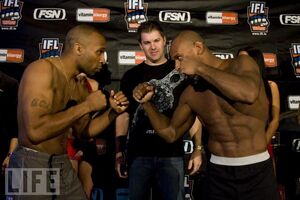 The fight was in the semifinals of the IFL welterweight grand prix tournament.
The Fight
Edit
The first round began. Heleno landed a massive, massive inside leg kick after a moment and oh wow it was to the groin and Ray staggered to the corner barely made it and collapsed to both knees holding his groin. He continued after a bit. Amanda Ray his wife watched. Heleno shot in and got a takedown to guard. He passed to half-guard and then side control. Heleno mounted after a moment. Heleno stepped over for an armbar slowly. He was looking for it rolling on the bottom. He had the arm straightened out. Ray was almost out. It was tight now oh wow and yes Ray tapped.
Ad blocker interference detected!
Wikia is a free-to-use site that makes money from advertising. We have a modified experience for viewers using ad blockers

Wikia is not accessible if you've made further modifications. Remove the custom ad blocker rule(s) and the page will load as expected.